Rig Mats
Load sizes: up to heavy equipment
| | | |
| --- | --- | --- |
| Size: | Width: 1.21 m / 4 ft. or 2.43 m / 8 ft. | Length: 6.09 m / 20 ft or 12.19 m / 40 ft. |
| | 15.24 cm. / 6.0 in. | Weight: 102 kgs / 227 lbs - wet or dry |
| | | |
| | |
| --- | --- |
| Weight: | 3 beams – 8 X 20 ft.: 1451 kgs / 3200 lbs* |
| | 3 beams – 8 by 40 ft.: 2857 kgs / 6300 lbs* |
| | 2 and 4 beam weights are available upon request. |
| | *based on typical new weight. Actual weights may vary. |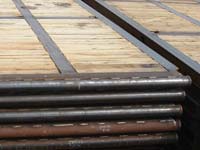 Installation criteria: Install on a solid to soft conditions. Multiple layers of mats may be required in extremely soft conditions.
Applications:
a portable platform to support equipment used in construction and resource based activities including such as drilling rigs, camps, tanks, helipads, and more.
a structural roadway to provide passage over unstable ground, pipelines and more.
Shipping options: : truck and trailer decks, flat bed rail cars