Products
Pathway offers a full range of matting and ancillary products to provide you with options. These products are made from a variety of materials and are designed for specific applications, loads sizes, underlying conditions and longevity. The key to selecting the product best suited for your needs is consideration of the following:
Do you desire short or long term longevity; high or low value? Some materials will cost less than others but will have a shorter lifespan.
Is this a rental or non rental application? Long lasting, low maintenance and durable products will earn a higher rental rate and generate a higher return on investment.
What types of traffic will be mats be subject to? The selection of material is critical to determine the mat best suited for your needs. For example: Wood has good load bridging characteristics up to a specific threshold. However, permanent structural damage will occur once the load exceeds the capabilities of the fiber. Rubber mats may be slightly less ridgid but elasticity and memory features reduce structural damage caused by overloading.
What safety concerns are related to the application or inherit to the material? Some materials will create hazards as a result of the environment or application in which they are installed. For example: wood and plastics may become slippery during wet or cold conditions.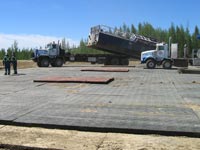 Our quality access mats can be used in a variety of applications from providing a platform to host an outdoor concert, to a temporary ground cover over sensitive terrain, to accessing a remote location for oil and gas exploration, to a helicopter landing pads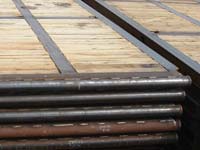 These mats vary in design and function from access matting. Rig mats are made with an outer steel frame and cross members of 6 inch I beams. Wood is installed crosswise in between the steel frame. The units are equipped with winch style loading skids and overhead hoisting shackles. Two, three and four beam models are available in a variety of lengths. Rig mats are designed to provide a structural platform for heavy equipment as drilling rigs, tanks and other equipment.
4 by 20 ft – 2 beam models
4 by 20 ft. – 2 beam models
8 by 20 ft – 3 and 4 beam models
8 by 40 ft – 3 and 4 beam models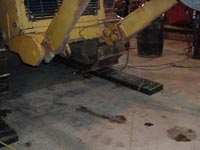 These products are used in conjunction with matting or independently in a wide variety of applications as blocking under equipment, protect surfaces from abrasive traffic, bridge deck protection and more.